See form below to add your MX-5 for sale.
MX-5s & Parts For Sale
All sales are private purchases between private individuals. The MX5 Club of New Zealand accepts no responsibility for accuracy of a Member's listing.
2007 Retractable Hardtop $14,995
Automatic, in the smart grey, hint of purple colour.
Lovely condition, meticulously maintained, some might call me OCD. It's almost perfect, which is why it's for sale. I need a project to keep me off the streets. Drives like a charm. 87kms.
K&N, battery immobiliser, removable HikeIT throttle module, reverse camera, trim enhancements, leather wrap wheel, gas bonnet struts, strut brace … See for yourself in the photos. Custom made draft screen.
Not listed on TradeMe for a couple of weeks to give Club members first opportunity at a lower price. If not sold by mid September will be listed at $1500 more. Located in sunny Tauranga.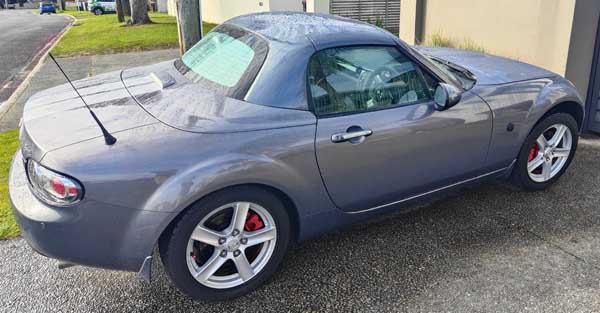 1999 5-speed
1839cc in Blue. Bonnet had fade, so been skinned in black.
Beautiful car. Sad to let her go. 268km.
Would consider a trade for a do-up MX-5.
Contact John 0276768628 or LOVR@xtra.co.nz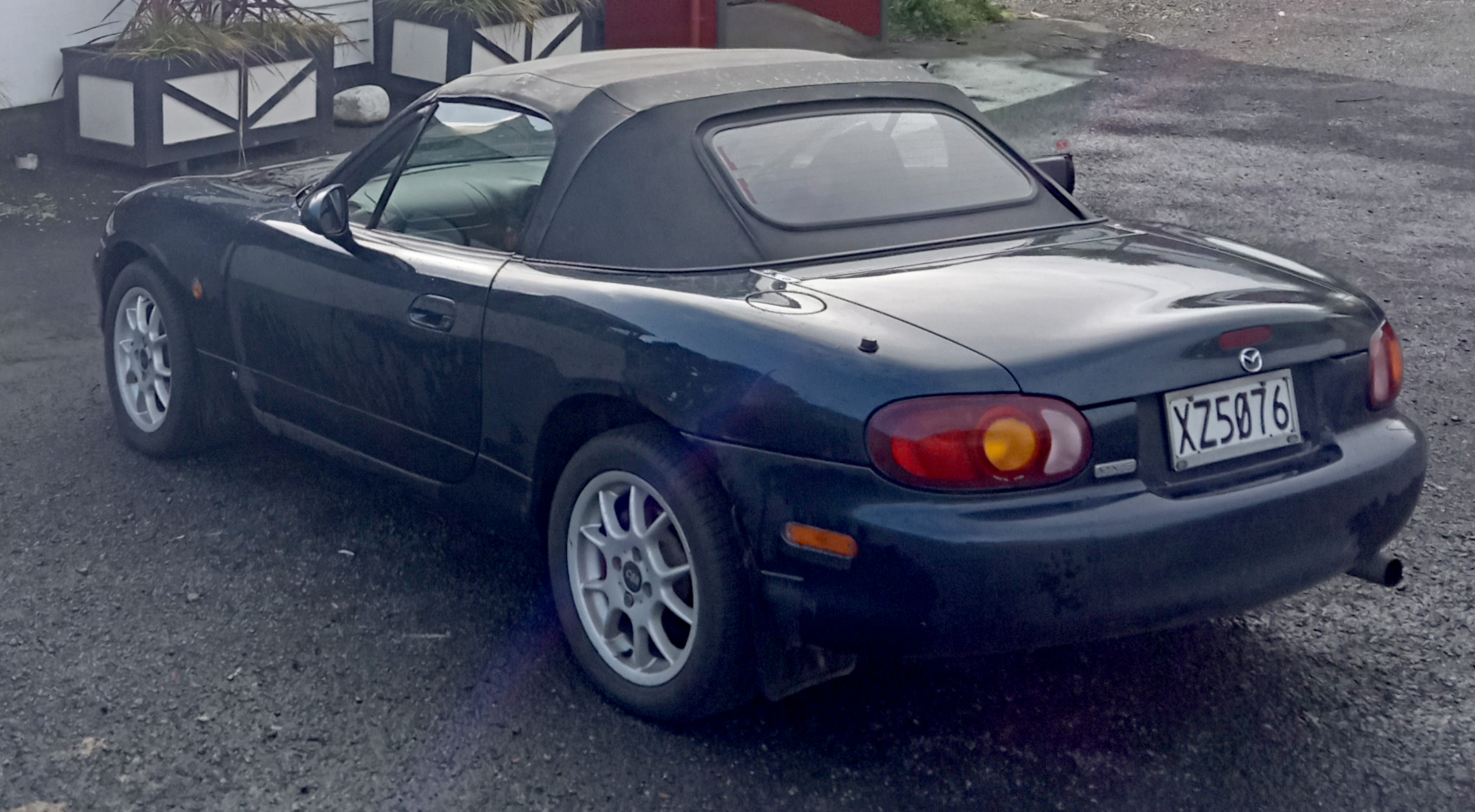 1991 Mazda MX5 NA
Eunos Roadster. Mileage 185,922. Good condition $8,500
More info phone John 027 4977 466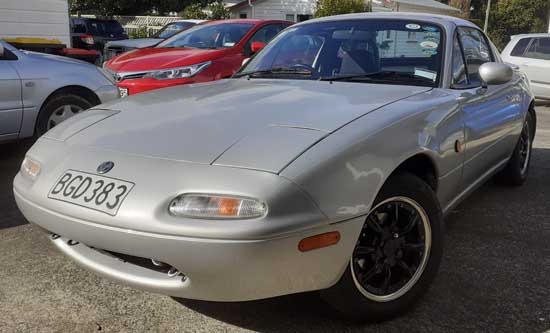 2006 MX-5 Roadster
Black and in excellent condition. Would like to sell it to someone who will continue to look after it. 57,000kms. $15,000
Contact Mark mbellcooks@gmail.com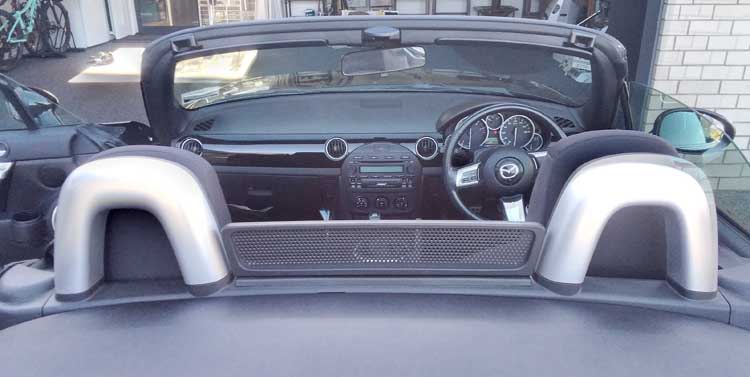 Year 2000 sea blue 6 speed manual
Sabrina is reluctantly for sale. Regularly maintained. Replaced soft top. Only 112000 kms. View in Hamilton.
Contact Helen trevhelen@kinect.co.nz or 0274169921
2007 Mazda MX5 Roadster
Retractable hard top, leather interior, heated seats, wood grain finish, reversing camera, GPS.
Recent paint and panel tidy up, immaculate condition
72,000ks, well serviced and looked after, only selling for health reasons. $15,000
Contact Michael Wood michael.wood@xtra.co.nz  or 0274978626

Anniversary MX-5
Presented in immaculate condition, finished in pearl white with the signature red upholstery, mats and roof that applied to the anniversary cars. Comes with brand new spare set of rims still packed and sealed. 100% stock and zero enhancements. A delightful car that has never seen a rainy day, and there isn't a scratch on it. Original owner was ex-MD of Mazda New Zealand and was part of a collection. First service was performed on the vehicle by South Auckland Mazda in October 2022. Balance of new car warranty applies to 2026.
Contact Mike Powell  mjpowell@mac.com or 0279114711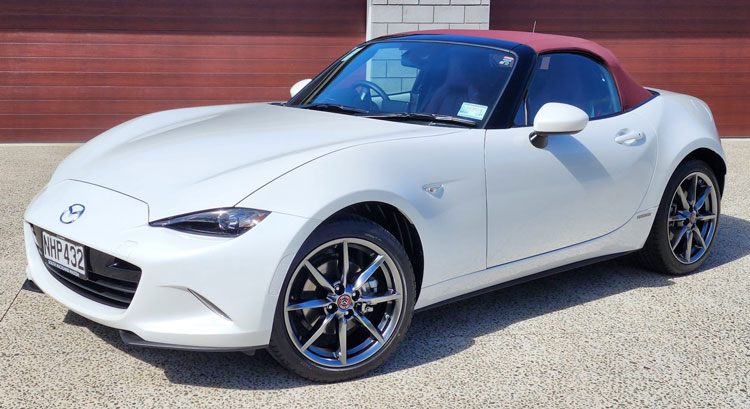 Mazda MX-5 6-Speed Manual Roadster
Registered and Warranted
Year: 2000 2nd Generation Phase II (NB Series)
First registered in NZ: 15 May 2007 at 60,146kms
I am shown as the 4th owner on the Cert of Registration
(two previous were of the same family)
Motor rebuilt in August 2016 (195,600kms), now at 242,600kms.
Cambelt, waterpump, belts, spigot bearing all replaced at the time (receipts available). Reverline Mags with Bridgestone 205/45 R16 83V tyres. New bespoke made Soft Top (approx $3500). (not been used in the rain) Ram Air System fitted. (Tegiwa Carbon Airbox and K&N Filter). Mandrel Exhaust System
Small area on RF guard where clear coat has come off (approx 50mm dia). Mags on LHS have some kerb damage. A few minor dents and stone chips around the body. Drivers seat worn with one tear in the edge. Been garaged for the last 5 years, at least. No rust evident.
Asking $12,500 or near offer.
Contact Geoff  too-cur@xtra.co.nz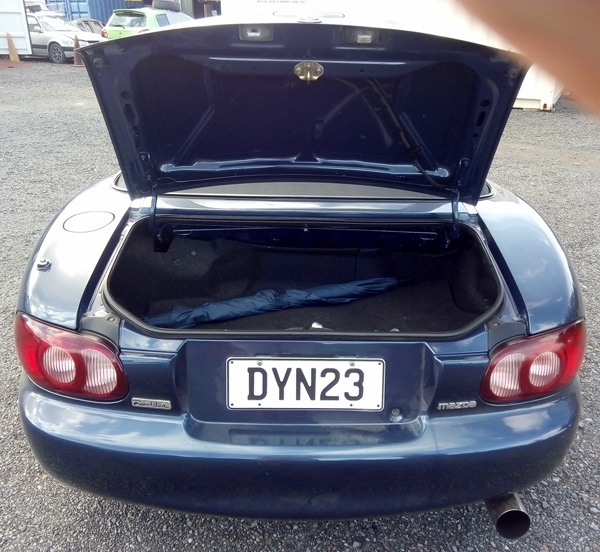 1995 model with the 1.8 litre engine.
Always serviced. Always garaged
In extremely good condition inside and out.
146,000 Km on the clock.
Contact: pjhenderson181@gmail.com or 022 6892314
$9250 ONO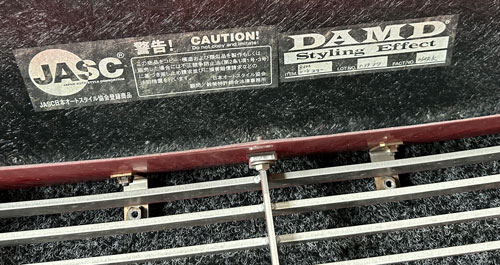 DAMD MX5 / Roadster NC1
Front Bumper (Aston Martin Style)
Condition: Great, just a mark at the bottom. Imported previously from Japan. Comes with fog lights also. Installation is quite simple with easy to follow YouTube guides available.
Make your NC MX5 stand out from the crowd! Or could be a great replacement for a bumper that has been damaged. Pick up Paerata, or can courier at purchasers expense. or 0276506500
Accessories

Car cover
Boot liner
Floor mats
Tonneau cover with bag
Priced from $80 + p&p
Contact Gary Wood. 0274956062
Personalised Plate MX5 16V
for sale $500 o.n.o
Contact Paul Smith on 027 452 3939
or pj_smith@xtra.co.nz
Number plate MX5HI, came with my car and finally getting around to selling it, $800 ono.
Plates are in the old style print from earlier 2000s, contact for more information: d.boyle.audio@gmail.com
An exclusive service for Club Members only.